6 hospitals, 7 continuing care facilities, 22,000 people caring for Long Island. Exceptional opportunities at the heart of healthcare.
CHSLI Employees
Click Here to Apply
Apply Online
Manager-Care Coordination-ED
Facility: Mercy Medical Center
Location: Rockville Centre, NY
Department: Care Management
Category: Nursing / Nursing Leadership
Schedule: Full Time
Shift: Evening shift
Hours: 3:00PM-11:00PM**Must be able to work every other weekend**
ReqNum: 6011519
Qualifications:
Education:
Graduate of an accredited school of nursing; Graduate of Bachelor's degree in nursing preferred.
Experience/skills:
Two to three years' experience in health care related discipline (hospital, agency, etc.) and/ or previous discharge planning experience and/or community health care experience preferred; must be extremely motivated, organized, flexible, and detail oriented. Excellent interpersonal skills (oral and written).
Ability to respond to short deadlines.
Effective problem solving abilities.
Licensure:
NYS RN license required; PRI and/or Screen certification preferred.
Job Responsibilities:
In collaboration with the HUB Manager of Care Coordination (MCC) ensure appropriate patient bed placement and level of care.
Works collaboratively with ED staff and Physicians to identify potential admissions.
Proactively notifies the HUB CCM prior to Physician order of potential admissions and need for appropriate bed assignment.
Efficiently manages appropriate patient admissions.
Discusses potential admissions with ED Physician and the Attending Physician; applies appropriate criteria to determine correct patient status and level of care required.
Initiates first level review in MIDAS using MCG criteria leaving the review on a pending status.
Ensures all ordered admissions meet criteria.
Validates order to admit matches determine patient status and confirms accuracy of clinical documentation.
Ensures documentation of admission orders as per policy including completion of patient's History and Physical.
Reviews Physicians admission order and validates status and level of care matches order.
Determines DRG-based initial TLOS values for ED admission and enters into EPIC.
Considers alternatives to admission for patients not meeting criteria for admission.
Discusses with ED and/or Attending Physician patients that do not meet admission order criteria.
Identifies those patients that will be discharged from the ED and discuses discharge needs with Physicians and ED Social Worker as appropriate.
Works with the ED Social Work to avoid inappropriate admissions (i.e.) social admissions.
Partners with ED nurse or ED charge nurse to communicate with patients/family about admission and plan of care.
Confirms that units and bed assignment is appropriate.
Serves as an educator and consultant for ED Physicians, Attending Physicians, and ED staff regarding patient status, bed placement, payor requirements, and utilization of resources.
Works with next shift ED MCC to ensure all patients continuity of care, potential admissions, status of current patients in the ED, and update information given to HUB MCC.
Escalates patient concerns and barriers to Physician Liaison, Director of Clinical Care Coordination, and or Nursing Supervisor as appropriate.
CHSLI Employees
Click Here to Apply
Apply Online
Apply Later
Catholic Health Services Facilities Catholic Health Services of Long Island (CHS) is an integrated health care delivery system with some of the region's finest health and human services agencies. CHS includes six hospitals, three skilled nursing facilities, a regional home nursing service, hospice and a multiservice, community-based agency for persons with special needs. Under the sponsorship of the Diocese of Rockville Centre, CHS serves hundreds of thousands of Long Islanders each year, providing care that extends from the beginning of life to helping people live their final years in comfort, grace and dignity. Learn more about CHS's commitment to quality and about the services offered.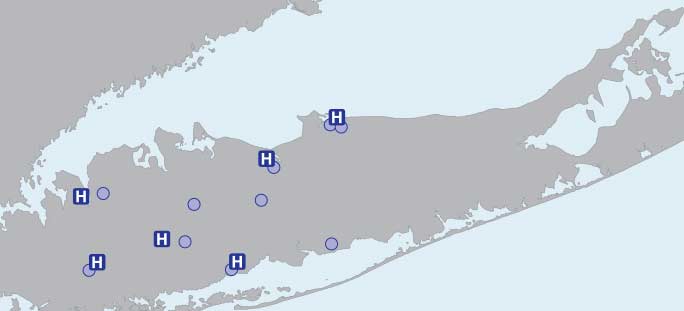 Important Notice
We've recently upgraded our career site to better serve our applicants!
If you had applied online, prior to July 27, 2016, please note that your username and password may no longer be recognized:
If you try to apply or login and you receive a message that your user name or password is incorrect or not recognized, please create a new profile.
We apologize for any inconvenience this may cause and thank you for your patience!