Jobs and Careers at Catholic Health Services of Long Island
6 hospitals, 6 continuing care facilities, 22,000 people caring for Long Island.

Exceptional opportunities at the heart of health care.
Put Your Career at the Heart of Health
Catholic Health Services employees are known throughout the industry for their professionalism and compassion.
As a member of the CHS team, you will enjoy a career that is rewarding and challenging and allows you to make a real difference in others' lives as you advance your own career. Our employees are defining the future of health care each day by continuing a tradition of caring for those in need that dates back more than a century.
At the corporate level, CHS Services, Inc. is responsible for supporting our health care system with key functions such as information technology, finance, human resources, supply chain, internal audit, care management, etc.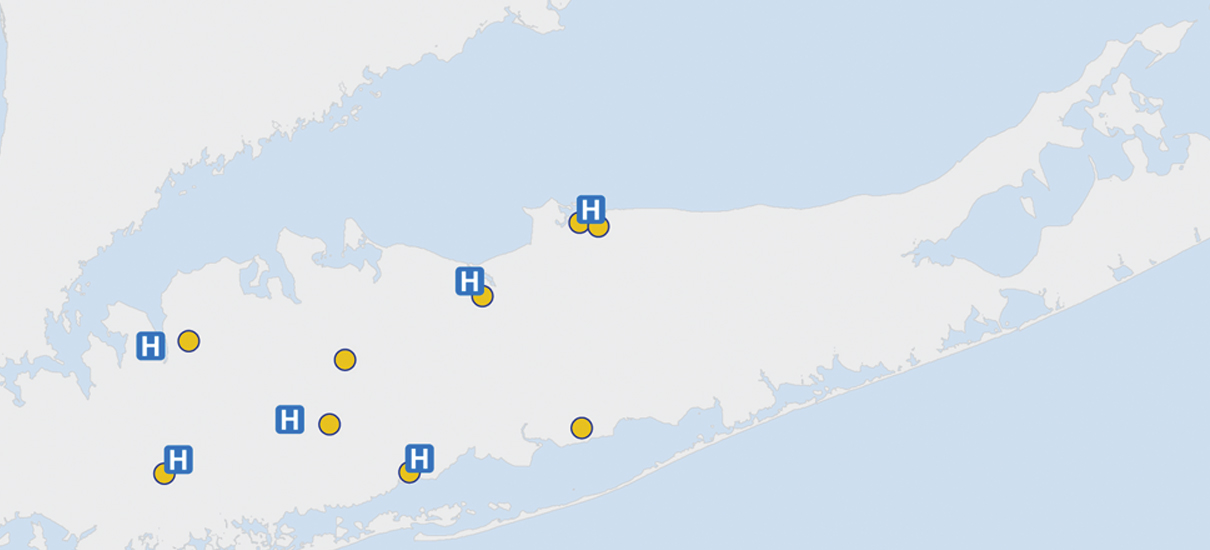 Catholic Health Services Facilities Catholic Health Services of Long Island (CHS) is an integrated health care delivery system with some of the region's finest health and human services agencies. CHS includes six hospitals, three skilled nursing facilities, a regional home nursing service, hospice and a multiservice, community-based agency for persons with special needs. Under the sponsorship of the Diocese of Rockville Centre, CHS serves hundreds of thousands of Long Islanders each year, providing care that extends from the beginning of life to helping people live their final years in comfort, grace and dignity. Learn more about CHS's commitment to quality and about the services offered.
Video Center: "We're Here for You"
I Have Heart

CHS: The Best Team

One Great Health System

22,000 Working as 1

Care and Compassion

Outstanding Care

Six Great Hospitals
St. Francis Hospital
job fair
Wednesday, July 26, 2017 * 4pm-7pm
The DeMatteis Center 101 Norghern Blvd., Greenvale, NY 11548
*Please note this is an offcampus location Bring Your Resume & License
Jobs.chsli.org/stfrancis
On-site interviews for the following opportunities:
Certified Medical Assistants
Food Service Associates
Physician Assistants and Nurse Practitioners
Occupational Therapists and Physical Therapists
Physical Therapists- Outpatient Per Diem*
Registered Nurses - Assistant Nurse Manager, Critical Care, ER*
Ceritified Sterile Processing Technicians*
Technollogists - Radiology, Echo, Medical Laboratory*, Cardiovascular and Nuclear
*These positions are eligible for a Sign-On Bonus
For more information visit: https://jobs.chsli.org/job/greenvale/job-fair-wed-7-26-4p-7p-st-francis/247/5154622
Get Job Recommendations
With just one click and a connection with LinkedIn, you can receive job listings that best match your previous positions.
Start Matching Jobs

››
Featured Jobs
Mercy Medical Center

Chief Medical Officer

Significant opportunity exists to contribute to the strategic direction and leadership of Mercy Medical Center...

St. Francis Hospital

JOB FAIR! Wed 7/26 4p-7p St. Francis

St. Francis Hospital JOB FAIR Wednesday, July 26, 2017 * 4pm-7pm The DeMatteis Center

Good Shepherd Hospice

RN-Admissions

Good Shepherd Hospice is a member of Catholic Health Services of Long Island and an integral part of the health c

Good Shepherd Hospice

RN Manager

Good Shepherd Hospice is a member of Catholic Health Services of Long Island and an integral part of the health care

St. Charles Hospital

Registered Nurse - OR RN-Operating Room

NY State RN license & registered. BLS & ACLS certifications and previous Operating Room experience required.

St. Charles Hospital

Pediatric Physiatrist

St. Charles Rehabilitation is the leading rehabilitation center on Long Island, consisting of an acute rehabilitation h

Our Lady of Consolation

RN Nursing Supervisor

Education: Graduate of an accredited School of Nursing Program or an accredited College RN degree. QUALIFICATIONS:Minimu

St. Francis Hospital

Occupational Therapist - Per Diem - Inpatient

NYS license required. For inpatient acute care service. Varied caseload includes cardiac, orthopedic, neurologic, vascu

St. Francis Hospital

Medical Assistant - South Bay

HS/GED required. Responsibilities include: perform EKGs, knowledge of single and 3 channel EKG equipment, c

St. Charles Hospital

Registered Nurse - Float RN

NY State RN license & registered. BLS &ACLS certification required. Previous nursing experience in a medical/surgical se

St Catherine of Siena Med Ctr

Physical Therapist

DUTIES: Responsible for the overall direction, utilization, supervision, instruction, and evaluation of professional a

St Catherine of Siena Med Ctr

Critical Care - PA/NP

DUTIES: Current valid licensure to practice as Physician Assistant or Nurse Practitioner in NYS. Able to make sound d

St Catherine of Siena Med Ctr

Critical Care - PA/NP

DUTIES: Current valid licensure to practice as Physician Assistant or Nurse Practitioner in NYS. Able to make sound d

St Catherine of Siena NH

RN Charge Nurse

DUTIES: The Charge Nurse is responsible for patient care within a specific area in the nursing facility. This include

Maryhaven Center of Hope Inc

Registered Nurse

An RN would provides nursing services within the scope of proactive to individuals (adults or children) diagnosed wi

Maryhaven Center of Hope Inc

Registered Nurse

An RN would provides nursing services within the scope of proactive to individuals (adults or children) diagnosed wi

Maryhaven Center of Hope Inc

Direct Support Professional

If you are looking for more than a job and want a career that makes a difference in someone's life, if you are not afra

Our Lady of Consolation

RN PI Associate

Enjoy a brighter career by the Great South Bay ! Our Lady of Consolation is a proud member of Catholic Health Services

Mercy Medical Center

Physician-Critical Care-PD

Qualifications: NYS Physician license. Manage and provide critical care to IMCU and ICU patients; provide

CHS Services Inc

HRIS Specialist

Position Summary: The HRIS Specialist assists in the operation and maintenance of the HRIS system to ensure

CHS Services Inc

Clinical Risk Manager

Position Summary: Responsible for implementing Risk Management Program for non acute care facilities, as well a